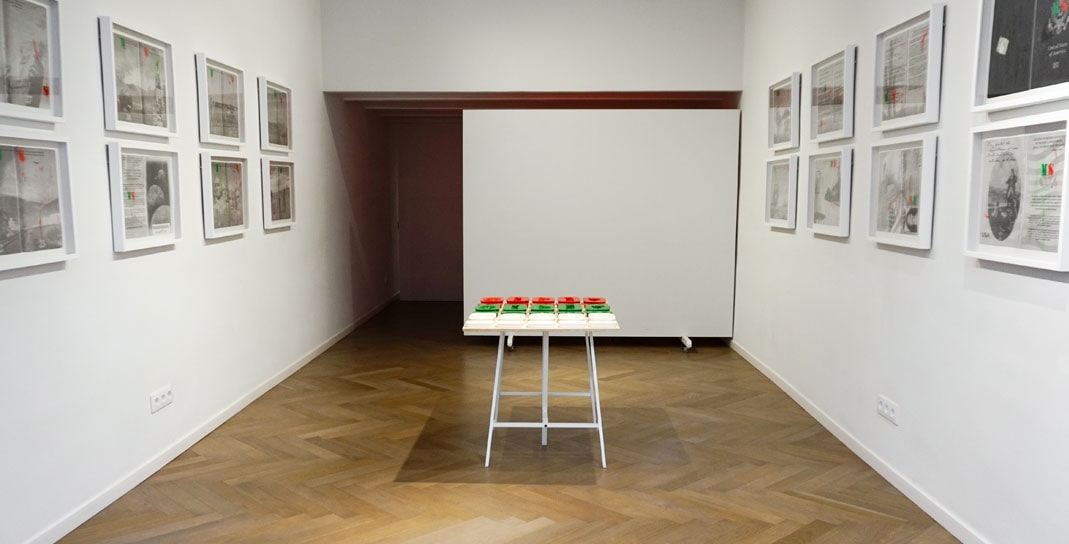 Ubi Consistam is a project by Marina Sagona on the construction but also on the diffusion of identity. This Latin quotation is used to express the idea of a stable point and also the search for one's own identity. As Archimedes said, "give me a fulcrum and I will see the earth". The project began in 2017 when Marina Sagona acquired US citizenship after living there for 22 years.
The exhibition is divided into three parts. The first are two series of sculptures entitled Organs and The Five Senses that represent the trace of five organs and five senses through which we experience, feel and think the world. These, in turn, being a trace, refer to a void in the puzzle of constructing identity. Each piece is repeated in the colours of the Italian flag: green, white and red. The second part of the exhibition, Passport, are enlargements of the passport that grants Marina US citizenship. On them the artist has painted her own initials pointing out phrases that create a concrete story within the narrative of the document itself. The third and final part is a video entitled Self-Portrait (25:55 minutes). In it, Marina portrays herself through the words and life experiences of six women.
In collaboration with the Istituto Italiano di Cultura di Barcellona.
Download the leaflet with a text by the curator Kosme de Barañano about the exhibition and the artist's practice.
When
29 January - 6 March 2021
29 January 2021
6 March 2021
Tuesday to Friday: 12 am – 8 pm
Saturday: 10 am – 2 pm
Where
Chiquita Room

Price
Entrada gratuita€
Book your tickets for Ubi Consistam
29 January - 6 March 2021

Tuesday to Friday
12 am – 8 pm
Saturday
10 am – 2 pm
29 January 2021

-

6 March 2021
Artist
Marina Sagona
Marina Sagona is an Italian and American artist living in New York City. She works in a variety of visual media, often around the concepts of control and codependency, sometimes collaborating with other artists.
Discover more