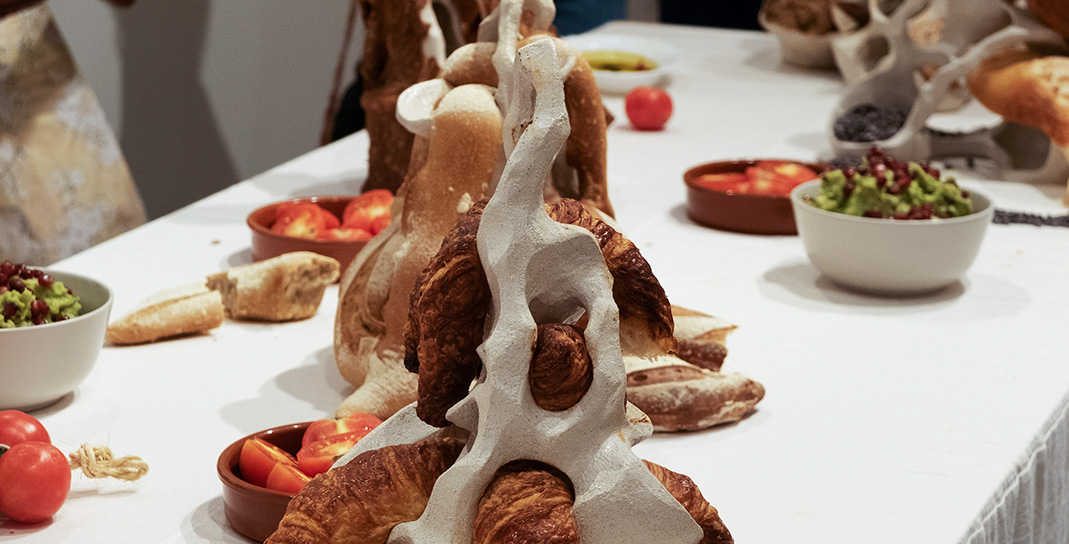 Sobremesa is a project by Liliana Díaz in collaboration with Xavier Barriga that explores the way we feed ourselves and the content we choose to do so. The exhibition, oriented towards the exploration of the relationship between public and artwork through sculpture and bread, is an attempt to evidence the way in which we share and to question the permanence of sculpture and its function.
«With Sobremesa, artist Liliana Díaz takes this collective dimension to think in a similar way about the bonds that are created around food, through the gesture of sharing bread. This dimension, absolutely central in Mexican culture, nourishes the artist's proposal, inviting the public to share a moment of encounter by eating the same food. Food –and the after-dinner conversation in particular– is associated with a form of celebration, of sharing, an expression of affection among the members of a community and a particular way of enunciating in that same context. The artist evokes the "neteo" and the fact of "netear" –a Mexican expression that means to speak with honesty– as something particular of these after-dinner moments: speaking from tenderness and sincerity to the people who love each other, sharing food and an affection that helps to express feelings that in another context could not be done in the same way.»
Fragment of Sergi Álvarez Riosalido's text about the exhibition.
Opening: Thursday, June 30 at 19h.
A project in collaboration with:


When
30 June - 30 July 2022
30 June 2022
30 July 2022
Tuesday to Friday: 12 am – 8 pm
Saturday: 10 am – 2 pm
Where
Chiquita Room

Book your tickets for Sobremesa
30 June - 30 July 2022

Tuesday to Friday
12 am – 8 pm
Saturday
10 am – 2 pm
Book now
30 June 2022

-

30 July 2022
Artist
Liliana Díaz
Liliana Díaz (Mexico, 1992) lives in Barcelona, where she develops her artistic practice by applying methods that materialize an approach between sculpture, installation, performance and other media.
Discover more