On Yellow Book
Colloquium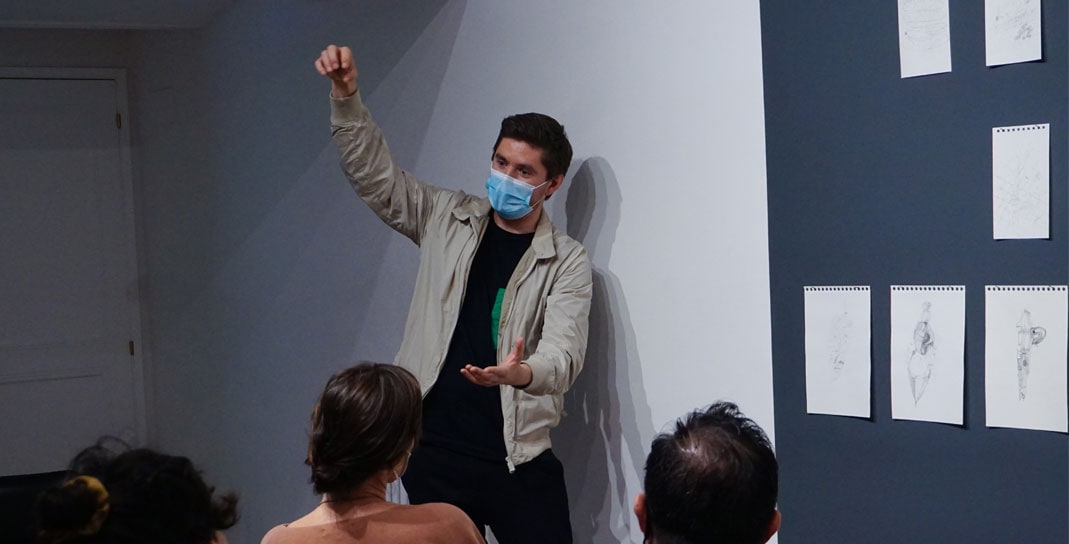 If the library could talk. Challenging the concept of the library
Two artist Kudzanai Chiurai and Jaro Varga will be in conversation on the concept of the library and its decolonisation. The starting point of the exchange are the projects what artistst developed separatly. Jaro Varga's The Yellow Book is currently on the show in Barcelona, Chiquita Room and started with his stay and investigation in libraries run by the art institutions Museum Picasso, Antoni Tàpies Foundation and Arús Library. Whereas Chundzanai Chiurai on-going Library of the Things We Forgot to Remember project was established as an independend space, re-opening each time in different place. The first presentation took place in Harra, Zmibabwe and latest in Paris, Palaise de Tokyo.
Kudzanai Chiurai (b. 1981, Zimbabwe) was born one year after Zimbabwe's emergence from white-ruled Rhodesia. Chiurai incorporates various media into his practice, which is largely focused around cycles of political, economic and social strifepresent in post-colonial societies. Chiurai's artwork confronts viewers with the psychological and physical experience of African metropolises. From large mixed media works and paintings to photography and video, Chiurai tackles some of the most pressing issues facing these environments, such as xenophobia, displacement and inequality. Chiurai has held numerous solo exhibitions since 2003 and has participated in various local and international exhibitions, such as 'Figures & Fictions: Contemporary South African Photography' (2011) at the Victoria and Albert Museum in London and 'Impressions from South Africa, 1965 to Now' (2011) at the Museum of Modern Art in New York. At present the artist lives and works in Harare, Zimbabwe.
Jaro Varga (b. 1982 ,Slovakia) a visual artist and curator. He earned a master's degree and doctorate from the Academy of Fine Arts and Design in Bratislava. Varga prefers to think about himself as a commentator on creation and destruction, who enjoys seeking out subtle details of what is lost, and systematically looks after what is just being born. He explores more than just one field of study, his range of interest encompassing geopolitical topography, the production and archiving of knowledge, social faux pas, and forgotten moments in history. His projects were shown in solo and group exhibitions, including History is His Story (NEST ruimte voor kunst, The Hague), SIGNAL – The Story of Slovak (Post)conceptual Art (Ludwig Museum Budapest), Traveling to the End (National Museum of Modern and Contemorary Art, ChangDong, Seoul South Korea), 2019; I Found It Somewhere but I Cannot Find It (solo show-site specific installation in an old synagogue, Samorin, Slovakia). He lives and works in Prague.
Agnieszka Kilian curator and writer with juristic background as she worked as barrister. She is strongly interested in the questions of justice and the forms of collaborative cooperations. Her latest projects include: We, The People (2019, Central Slovakian Gallery), Calling Justice (2018, Arsenal/Pavillon, Posen), Dreams&Dramas. Law as Literature (2017, nGbK, Berlin). She lives and works in Berlin.
Moderated by: Agnieszka Kilian
Language: The conversation will be held in English.
On-line: Zoom link to enter the meeting online here.
When
6 May 2021
6 May 2021
6 May 2021
19:00 - 20:30
Where
Chiquita Room

Price
Entrada gratuita
Book your tickets for On Yellow Book


6 May 2021 @ 19:00

-

20:30
6 May 2021 @ 19:00

-

20:30
Artist
Jaro Varga
Jaro Varga is a Slovak visual artist and curator based in Prague, Czech Republic. He earned a master's degree and doctorate from the Academy of Fine Arts and Design in Bratislava, and also participated in student exchanges at the Academy of Fine Arts in Vienna, the Academy of Fine Arts in Wroclaw and Slippery Rock University of Pennsylvania in the USA. Jaro is fascinated by how until recently our knowledge of the universe has been expressed through writing – speculations, theories or theorems without a solid foundation in exact science and research. The subject of the universe and its exploration would seem to be a logical continuation of his interest in the principles of how the sum of our knowledge is created, including the continued failure or inability to discover how things "really are."




Discover more