Maisons de week-ends imaginaires
Exhibition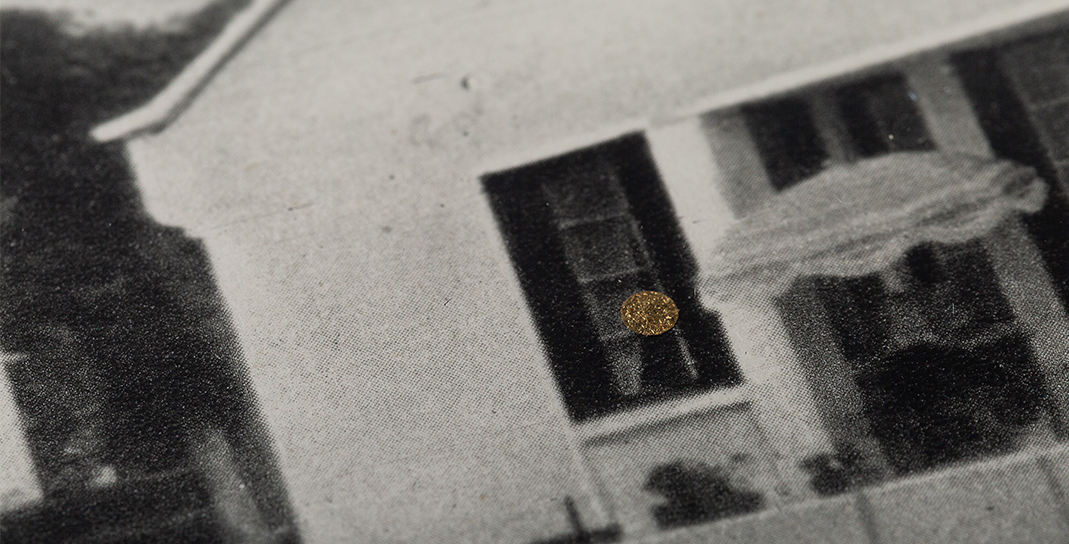 Maisons de week-ends imaginaires by Laía Argüelles is the result of an interest in private spaces and a desire for home as a sometimes inaccessible notion. The work is a polyptych composed by 12 pieces that are, at the same time, intervened diptychs: each one shows a print, taken from an old book of projected houses, and an interior photograph, found abroad. Materials of different origins, never autochthonous, come together to pose an alternative reality on a latent instability, that of the possible space of the home. Thus, each photograph could have been taken in each projected house: the space, the light, the position of the windows, etc., fit the plan and the view of each Maison, and this is recorded on each sheet, indicating the imaginary location of each photograph by means of gold leaf dots. This is the minimal intervention of gold on paper, as minimal is also the condition of possibility of its nature. The exterior and the interior are therefore contextualized in a common space through this very slight intervention.
Actually, this polyptych subtly addresses the difficulties of the desire to belong to a space that can be called one's own. For this reason, neither the prints nor the photographs (and not even the title) correspond to the artist's environment. Moreover, despite being composed of rescued graphic material, once easily reproducible (the images are, in fact, reproductions in themselves), each diptych is a unique piece, since the found-material character of all the elements confers on it the impossibility of repeating itself. These juxtapositions of intervened materials make up a post-production work that resorts to the traces of the past to project itself into an imperfect future. In times of mobility such as the present, the possibility of having a stable, habitable representation of the idea of home is relegated to something remote. This project deals with that difficulty and challenges it.
With a common pattern, each piece rescues elements disdained by others, recreating a new scene, a fiction, the image of our lack: (imaginary) weekend (imaginary) houses.
Opening: Wednesday, 11 May 2022 at 7 pm.
When
11 May - 25 June 2022
11 May 2022
25 June 2022
Tuesday to Friday: 12 am – 8 pm
Saturday: 10 am – 2 pm
Where
Chiquita Room

Book your tickets for Maisons de week-ends imaginaires
11 May - 25 June 2022

Tuesday to Friday
12 am – 8 pm
Saturday
10 am – 2 pm
Book now
11 May 2022

-

25 June 2022
Artist
Laía Argüelles Folch
Laía Argüelles is a visual artist and writer. Devotional swimmer and flea market gleaner, she resides in Zaragoza after having lived in the United Kingdom, Iceland and Germany.
Discover more