Plums, Decoding Sparrows and Sweet Bread
Reading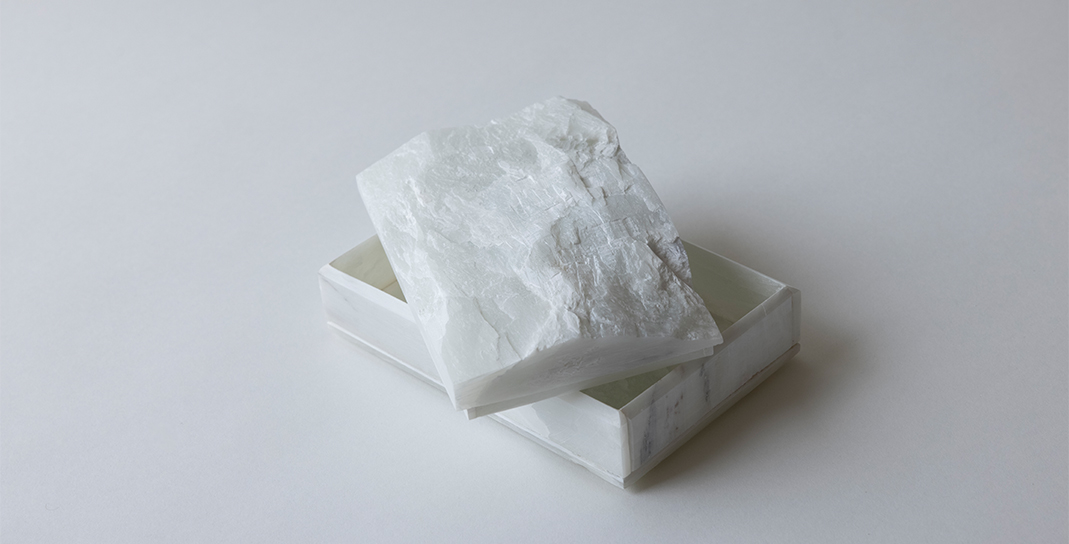 On Friday, September 15 at 7 p.m. we will present the artist's edition of Plums, Decoding Sparrows, Sweet Bread, as a collaboration between Teresa Estapé and poet Mariano Zaro.
The edition Plums, Decoding Sparrows, Sweet Bread was produced as part of the exhibition Children and Fools. It consists of three copies handmade from blocks of talc, the softest mineral on the Mohs scale. It contains the poems 'Plums' and 'Decoding Sparrows', first published in Decoding Sparrows (What Books Press, Los Angeles, 2019), and 'Sweet Bread', first published
in Dialogue (De Paul University, 2015). The poems are printed on greaseproof paper and wrapped in found paper in the manner of a diamond folder. The colophon is printed on Caballo 109 paper.
Mariano Zaro is the author of six books of poetry: Decoding Sparrows, Padre Tierra, Tres letras/Three Letters, The House of Mae Rim/La casa de Mae Rim, Poems of Erosion/Poemas de la erosión and Where From/Desde Donde . His poems have been included in several anthologies and magazines in Spain, Mexico and the United States. Zaro's short stories have appeared in Portland Review, Pinyon, Baltimore Review, Louisville Review and Magnapoets. He is the winner of the 2004 Roanoke Review Short Fiction Prize and the 2018 Martha's Vineyard Institute of Creative Writing Short Fiction Prize. Mariano Zaro earned a Ph.D. in Linguistics from the University of Granada (Spain) and a Master's in Literature from the University of Zaragoza (Spain). He is a professor of Spanish at Rio Hondo Community College (Whittier, California).
When
15 September 2023
15 September 2023
15 September 2023
Tuesday to Friday: 12 am – 8 pm
Saturday: 10 am – 2 pm
Where
Chiquita Room

Price
Entrada gratuita€
Book your tickets for Plums, Decoding Sparrows and Sweet Bread
15 September

Tuesday to Friday
12 am – 8 pm
Saturday
10 am – 2 pm
Artist
Teresa Estapé
Teresa Estapé has a long career in the world of art and jewellery. Born in Barcelona, with a degree in Law and Fine Arts from the University of Barcelona and a diploma in jewellery from the Massana School, her artistic practice combines jewellery, sculpture and installation and graphic arts.
Discover more