Como me pintes las cortinas te mato
Yannick Sanches
2019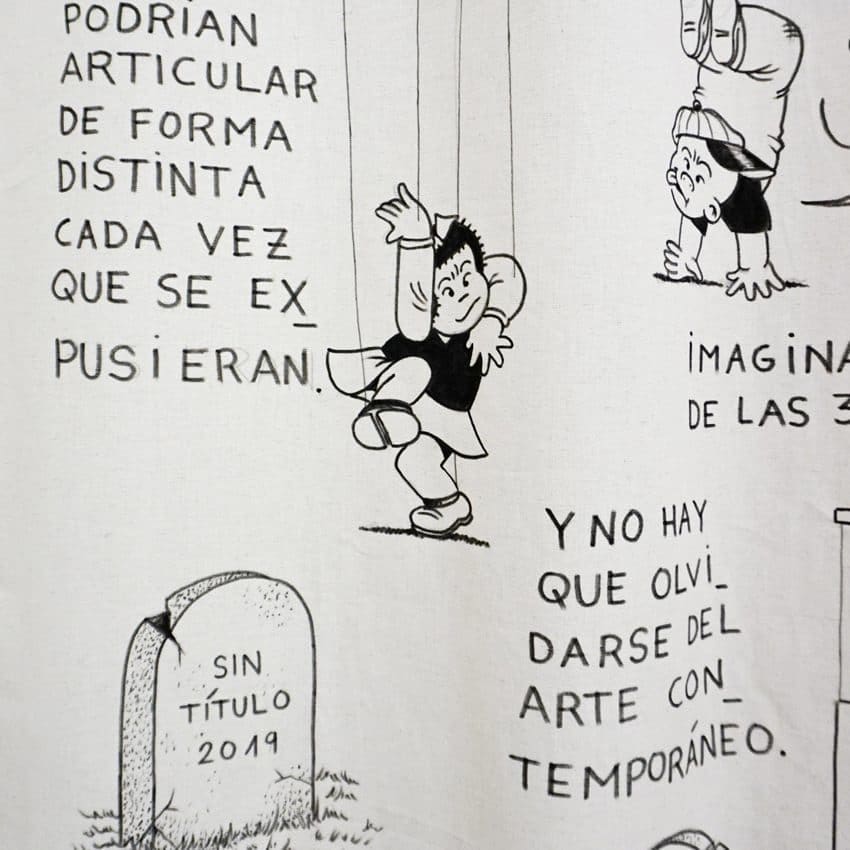 Yannick Sanches uses the idea of a threshold, in a humorous way, for his proposal around the unnamed arcane, known as Death, whose meaning is generally interpreted as change, mutation, transformation. Dressing the door of the gallery with a curtain that has to be crossed to enter and leave the exhibition, Yannick turns his interest in the creative world itself on it, starting from the possibility that, after physical death, one can "donate the body to art". Thus, and with the help of Eloise Edgington in the conceptualization, he turns her work into sketches of possible works, avoiding to give as definitive the proposal and, instead, questioning the spectators to give, paradoxically, new layers and life to the piece. To this end, he rescues the characters of Nancy and Sluggo, created by cartoonist Ernie Bushmiller in the 1930s, and thus ironically refers to different scenarios in contemporary art. During the three months that the exhibition lasts, he makes the exercise of taking the piece even further and gives it a new dimension, proposing to tattoo the visitors in the gallery, to take some of his designs and give them new life in their bodies.
Two canvas curtains of 122 x 388 cm each, hand painted with a marker.
1.900,00€ (IVA incl.)
Check price
1 in stock
Collect in store
from 24 hours
More about the artist
Yannick Sanches
The first moment Yannick learned that his name came from the tennis player Yannick Noah, he realized that life was one big crookedness.
Discover more