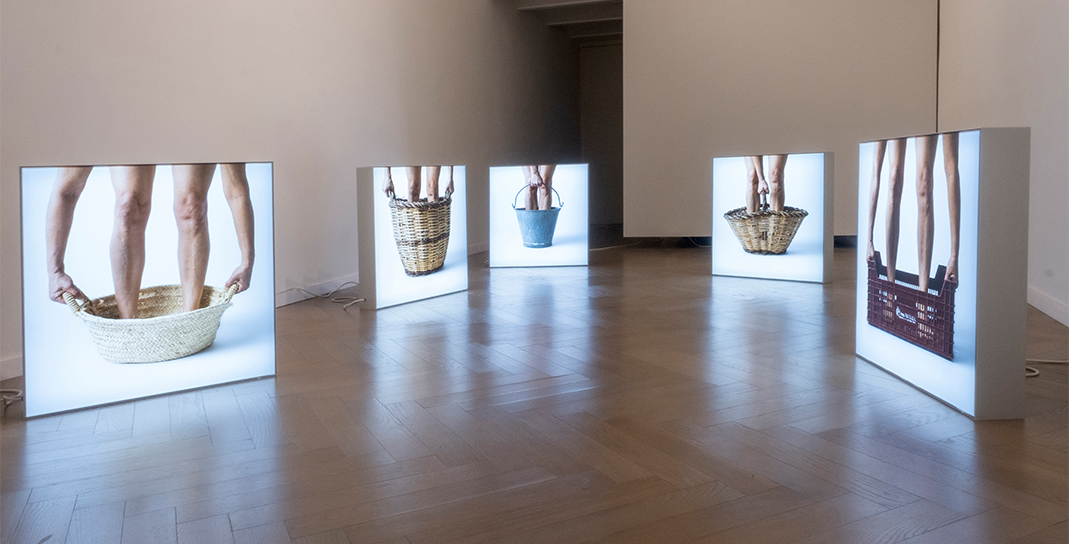 For four days the installation "Traginadores" can be visited in the gallery. In this series, Isabel Banal Xifré places herself inside different containers used in the rural world, some of them made with traditional materials such as wicker or cane and used to transport food, household goods, crops, stones…. The artist makes the gesture of carrying herself, an absurd and impossible image, which focuses attention on the person inside, who is unknown and suggests female legs.
From the usual agricultural implements and the position of her body inside, Isabel evokes the anonymous work of peasant women made invisible throughout history. As the saying goes, the land belongs to those who work it, but half of the population that has also worked it has not been represented in the statistics that show the people dedicated to the primary sector. Thus, it makes clear and commemorates her rural origins and rooted to the land, claiming the landscape of fields, forests and farmhouses where he grew up and how this landscape favors and is closely linked to a sense of identity and belonging to a place.
This piece has been selected in the 2021 acquisition campaign to be incorporated into the National Collection of Contemporary Art of the Generalitat de Catalunya to be deposited in the Abelló Museum in Mollet del Vallès.
When
24 Nov - 27 Nov 2021
24 Nov 2021
27 Nov 2021
12 am – 8 pm
10 am – 2 pm
Where
Chiquita Room

Book your tickets for Traginadores
24 Nov - 27 Nov 2021

Tuesday to Friday
12 am – 8 pm
Saturday
10 am – 2 pm
Book now
24 November 2021

-

27 November 2021
Artist
Isabel Banal Xifré
Isabel Banal Xifré is a visual artist and teacher at the Escola Massana in Barcelona. Her rural origins and her bond with nature permeate all her work.
Discover more