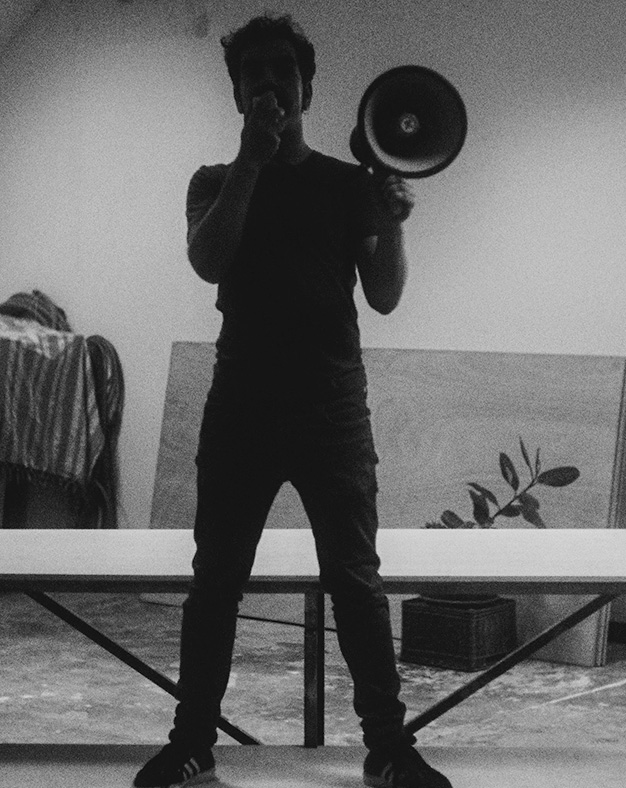 Barcelona, 1979
Poet and sound artist. He has always been known for crossing borders between artistic disciplines with poetry and language as a starting point. In his work he addresses subjects such as the body and desire, the text as architecture, digital feudalism and reflection on the city and the limits of growth. As a poet he has developed different aspects of poetry, although he has focused on sound poetry and performance. He has presented his proposals in institutions and festivals such as the Centre Pompidou, the Palais de Tokyo and the Fondation Cartier in Paris, the berlin poesiefestival, Bowery Poetry Club (New York), Centro Cultural São Paulo, Sónar Barcelona, Museo Reina Sofía (Madrid), Roma Poesia, Poetry Africa (Durban, South Africa) and Museo del Chopo (Mexico City), among many others. In 2022 he presented at La Capella the performance Utopia i esclavatge (Utopia and slavery), as part of BCN Producció.
He has published the poetry books Gaire (2012), El terra i el cel (2013, published in Spanish in 2018 by Arrebato Libros) and Menys i tot (2017). In 2021 he published the poster-poem Plançó (Carles Hac Mor award) and in 2022, Cuciture, an anthology of his poetry translated into Italian (Argo Libri). With the electronic band Bradien, with whom he collaborated between 2009 and 2016, he released the albums Pols (2012) and Escala (2015). He is currently a member of the band Barba Corsini, with which he released in 2021 the album Un nou incendi. In 2019 he made the film Cos endins with the Italian video artist Gianluca Abbate, which received the Goethe Award at the Zebra Poetry Film Festival in Berlin. Finalist in 2018 of the Bernard Heidsieck Prize, awarded by the Centre Pompidou and the Fondazione Bonotto.
He is also a professor of sound poetry in the Master of Sound Art at the University of Barcelona. Between 2010 and 2012 he was co-director of Barcelona Poesia (Barcelona International Poetry Festival) and between 2000 and 2004 director of the PROPOSTA festival, a festival dedicated to experimental poetic practices held at the CCCB. He currently directs the festival Poesia i +, organized by the Fundació Palau de Caldes d'Estrac in various municipalities of the Maresme. He also curated, with Eugeni Bonet, the cycle Próximamente en esta pantalla on lettrist cinema at MACBA (2005). In 2019 he curated the exhibition La red en el bosque. Joan Brossa and experimental poetry, 1946-1980.