The Yellow Book | Charla con el artista
Inaguración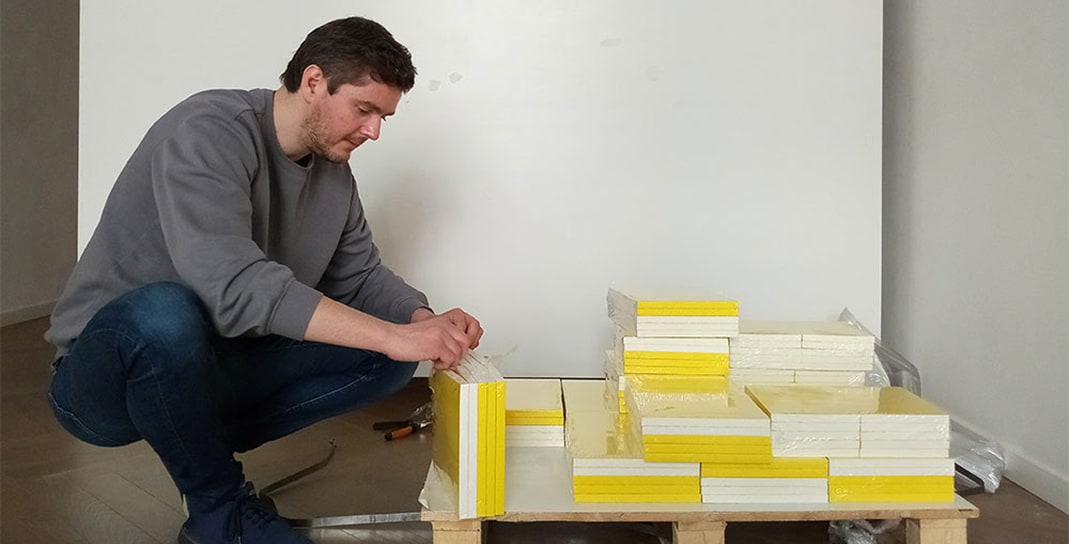 The Yellow Book es un proyecto del artista Jaro Varga, comisariado por Erich Weiss, que cuestiona la universalidad del conocimiento hegemónico a través de los libros y las bibliotecas. Entre el 15 de marzo y el 15 de mayo, Varga presenta una lectura crítica comparativa de los fondos de la Biblioteca Pública Arús, la de la Fundación Antoni Tàpies y el Museo Picasso con referencias del archivo personal del artista. El proyecto es fruto de la colaboración con el Centro Checo de Madrid y consiste en intervenciones efímeras dentro de estas bibliotecas emblemáticas de Barcelona, una instalación expositiva en la galería Chiquita Room y la publicación de un libro de artista.
El artista selecciona títulos de las bibliotecas para conectarlos con nuevas referencias, repensando así el conocimiento personal frente al conocimiento universal y haciendo visibles lagunas en los discursos dominantes. La instalación en Chiquita Room espejará y se hará eco de esta acción, al recopilar libros de la biblioteca personal del artista como punto de partida. Además, dibujos personales de Varga completarán la presentación y serán reproducidos en The Yellow Book, el libro de artista publicado especialmente para la ocasión.
El día 25 de marzo a las 19h se inaugurará el proyecto con una charla en inglés entre el artista, el comisario y la galerista Laura Gonzáles Palacios.
Aforo limitado.
Se requiere reserva previa.
When
25 March 2021
25 March 2021
25 March 2021
19:00 - 20:00
Where
Chiquita Room

Price
Entrada gratuita
Book your tickets for The Yellow Book | Charla con el artista


25 March 2021 @ 19:00

-

20:00
25 March 2021 @ 19:00

-

20:00
Artist
Jaro Varga
Jaro Varga is a Slovak visual artist and curator based in Prague, Czech Republic. He earned a master's degree and doctorate from the Academy of Fine Arts and Design in Bratislava, and also participated in student exchanges at the Academy of Fine Arts in Vienna, the Academy of Fine Arts in Wroclaw and Slippery Rock University of Pennsylvania in the USA. Jaro is fascinated by how until recently our knowledge of the universe has been expressed through writing – speculations, theories or theorems without a solid foundation in exact science and research. The subject of the universe and its exploration would seem to be a logical continuation of his interest in the principles of how the sum of our knowledge is created, including the continued failure or inability to discover how things "really are."




Discover more