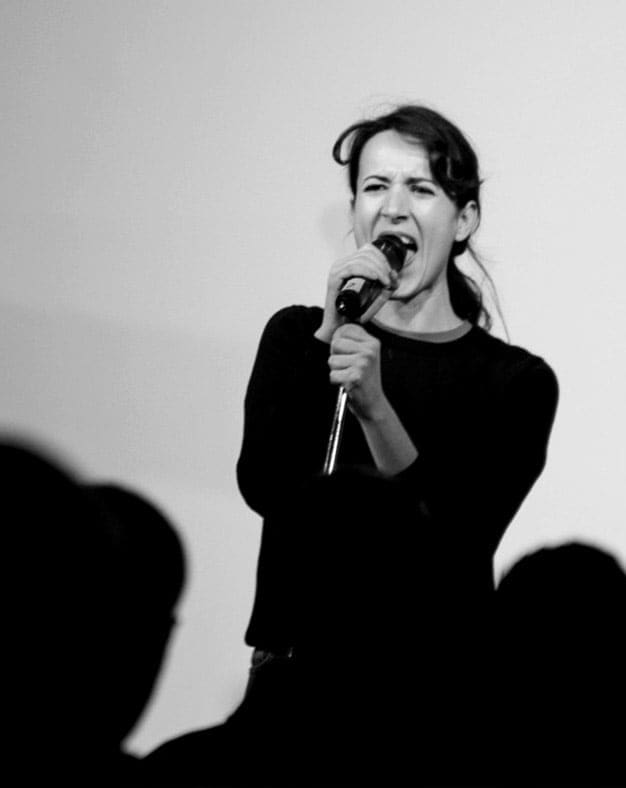 Barcelona, 1981
Lives and works in Barcelona. She has a degree in Fine Arts from the Universitat de Barcelona and the last year of undergraduate studies at The Cooper Union University (New York, 2010).
Her practice focuses her interest on the language of the body in relation to the voice. Using spoken word, song, objects and publications, her projects analyze the emotional possibilities of the 'a cappella' voice, opening a space for reflection on the performative character of the sound record and the oral archive.
Among the selected projects, the following stand out: Serendipity, at the Sala de Arte Joven de la Generalitat de Cataluña (2011), Jingle, Espai Cub, in the framework of BCN Producción (2011), " En lloc d'actuar fabulo", a delocalized project, presented at La Villarroel theater, in the framework of BCN Producción (2012), Moat, a project selected in Artists in Residence at La Casa Encendida and CA2M in Madrid (2017). She has presented his projects, among other places, at Macba, Barcelona (2012), JuneFirst gallery, Berlin (2014), Fundació Antoni Tàpies, Barcelona (2014-15), at Adn Platform gallery, Barcelona (2015), Centro Párraga, Múrcia (2016), Teatro Pradillo, Madrid (2016), Fundación Joan Miró, Barcelona (2016), Antic Teatre, Barcelona (2016), Chapelle des the Beaux-Arts, Paris (2017), at CA2M, Acento, Madrid (2017), Museo Picasso, Barcelona (2018), Fundación Botí, Córdoba (2018).
She has held Workshops in the educational program of Macba (2016-17-18) and has participated in the program In Residence, Creators in high schools in Barcelona (2016-17-18). Her work is present in private and public collections, such as the collection of Banco Sabadell, the collection of the Palau i Fabre Foundation Art Center in Caldes de Estrac and the Patrim collection of the University of Fine Arts of Barcelona.