Another Gold
Teresa Estapé
2021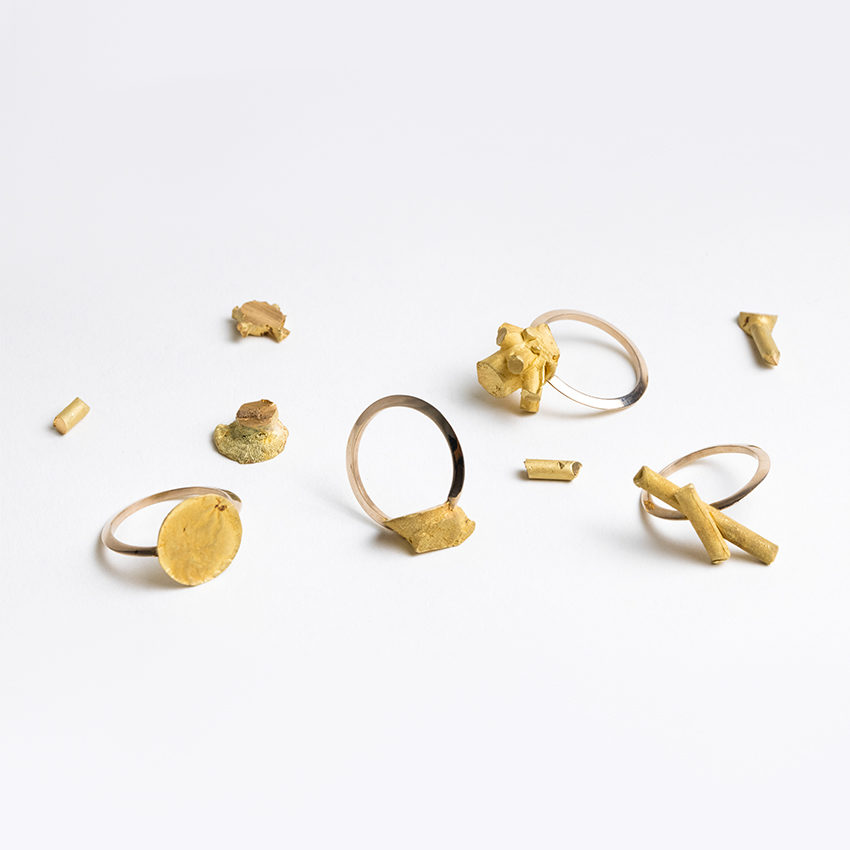 Eight unpolished Fairmined gold cast fragments, four of them welded to a white gold hoop.
In her quest to alter the way jewellery is worked in goldsmithing, the artist "stops making". While a goldsmith manipulates the metal until it becomes an ornament, in the series "Another Gold", Estapé intervenes the least, fascinated by the strength of the material in its pure state. In this case it is Fairmined gold (that which is obtained from artisanal and small-scale mining organisations that are responsible for the environment and labour rights). The artist selects smelting discards, the pinches of pliers in the metal, waste and everything that has no formal value for jewellery, in order to re-signify them, thus questioning the meaning of value itself in the logic of the market. Faced with the interest of a public devoted to jewellery, Estapé's proposal is to question it and move it to a different place from that of the consumer. To generate strangeness by not being able to identify that which is observed and valued.
Check price
More about the artist
Teresa Estapé
Teresa Estapé has a long career in the world of art and jewellery. Born in Barcelona, with a degree in Law and Fine Arts from the University of Barcelona and a diploma in jewellery from the Massana School, her artistic practice combines jewellery, sculpture and installation and graphic arts.
Discover more